My Favorite Chrome Extensions for Digital Marketers
Everyone who is truly a digital marketing specialist knows that Chrome is the way to go for a browser. Beyond its incredible developer tool capabilities, it is truly customizable with apps, extensions and bookmarks. With that said, my browser bar is out of control. I can hardly see URLs anymore, and I can't tell if I am hoarding extensions or merely pimping my proverbial internet ride.
But alas, these Chrome extensions are all incredibly useful, so without further ado, I give you my favorite Chrome extensions for digital marketers.
Analytics Extensions for Chrome
Google Tag Assistant:
Want to quickly figure out if Google Analytics, Tag Manager, Remarketing Tags, and Call Metrics are correctly installed on a website? Google Tag Assistant makes this easy. Not only can you quickly reference that these tags are installed with best practices (incredibly useful in an audit) but you can also record and monitor events for a deeper look inside a site's analytics implementation.
Check out Google Tag Assistant
Tag Manager Injector:
Tag manager injector allows you to insert Google Tag Manager onto any site within your browser. You can create tags, triggers, and variables in a staging environment without even having access to a site's source code. This speeds up client work significantly as you can prep your entire tag environment without waiting for client assets.
Check out Tag Manager Injector
Google Analytics URL Builder:
UTM parameters confuse or annoy you? Have no fear! With GA URL Builder, you can build them right from an extension on your browser. It will automatically copy the page you are on and you can quickly set the source/medium and campaign. Copy and paste the final URL to your campaign and you are good to go!
Check out Google Analytics URL Builder
Search Engine Optimization and Paid Search Extensions for Chrome
MozBar
If you are an SEO company, it's very useful to know what's going on with a prospect's on-page SEO before signing on or even pitching to them. There are a million-and-1 SEO browser extensions but MozBar is one of my personal favorites. With the click of a button, you can quickly see an overview of meta-tags, h1's and h2's, if a site is using structured data, open-graph markup, and a general idea of their page rank and domain authority. This tool is super useful in not only auditing but also ensuring that when you start your SEO on-page implementation, you aren't missing any key factors.
Check out MozBar
Keyword Wrapper
Keyword Wrapper helps you build different keyword match types quickly. Sure, you can probably do this in an excel spreadsheet as well, but this is right there for you when you need it most…in front of the AdWords keyword interface. Just put in your words, select your match types, and click wrap. Time saver = A+
Check out Keyword Wrapper
Web Design Extensions for Chrome
CSS Viewer
CSS Viewer scans a web page element and reveals all of the CSS properties associated with that element. This is very handy when examining code for the purpose of building off a pre-existing client site or theme.
ColorPick Eyedropper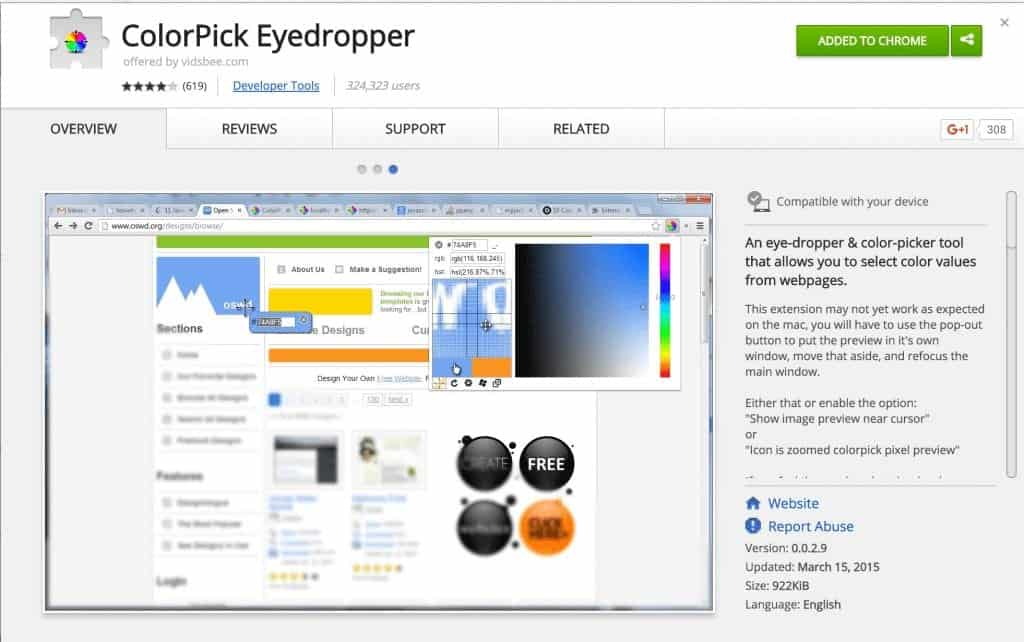 Colorpick Eyedropper is a fast CSS color identifier. Hover over any website element and quickly figure out what CSS # the color is. Very efficient, very simple.
Check out Colorpick Eyedropper
General Digital Marketing Extensions for Chrome
Clear Cache
One of the most frustrating things while building a website is making changes and being positive you've done all the coding changes correctly, but things still look exactly the same. Well, it's time to clear that cache!
What a fantastic theme song. It should probably be a terrible line-dance right up there with the electric slide…"gotta clear that cache, now." Ok, maybe not, but having an extension that can clear the cache of a browser in one tap is definitely a good idea…much better than a line-dance.
Check out Clear Cache
There are so many more browser extensions that I use on a daily basis but I don't want to overwhelm you. Just remember, the most important thing is you still need to be able to use your browser as a browser. If you can't see your URL space anymore…you have a problem and may need extensions anonymous. I'll see you there.
Want to learn more about our extension techniques? Leave a comment or reach out to us @ [email protected]. We'd be happy to have a conversation with you!
Achieve your website goals with customized data, intuitive UX, and intentional design.